O'Caine's Irish Pub brings a little bit of the Emerald Isle to the Coachella Valley by providing a truly "Irish experience" to everyone who comes through the doors.
Their approach of combining charming old world tradition with a modern-day atmosphere is unique in that, even if you've never been, you feel right at home the very first time you come in.
The menu is a satisfying blend of Irish favorites, like Shepherd's Pie, Corned Beef & Cabbage and Bangers & Mash and contemporary dishes such as Fish & Chips, Hearty Burgers and a great selection of tasty salads. And, no one should ever leave without the Chief Cooey's Sticky Toffee Pudding experience!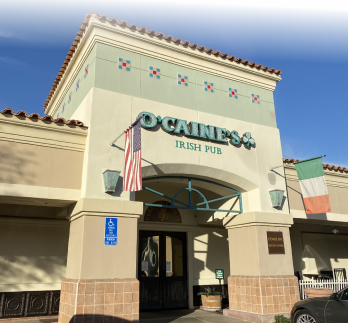 Home to the largest selection of Irish beer and whiskey, O'Caine's is the only true Irish pub in the Coachella Valley. The owners' ancestral heritage goes back eight generations to one John O'Caine for whom the pub is named. Live Irish music on Thursday, Friday and Saturday evenings from 6-9, Trivia Tuesdays from 6-8, and an 8ft. drop-down screen for special/sporting event viewing all enhance the fun atmosphere and O'Caine experience.

While you're there, feel free to walk around the pub and take in the history on the walls, view the private party room that seats up to 24 and visit the charming gift shop with unique gifts from Ireland.
The pub opens at 11am, is closed on Wednesday and strongly recommends making reservations for the evening meals by calling 760/202-3311. Slainte!