The market seems to be starting to reach peak home values. While home prices are still climbing nationally, the increased mortgage costs have also pushed some buyers out of the market. National home sales fell 2.7% in March, and mortgage applications dropped 5% in mid-April.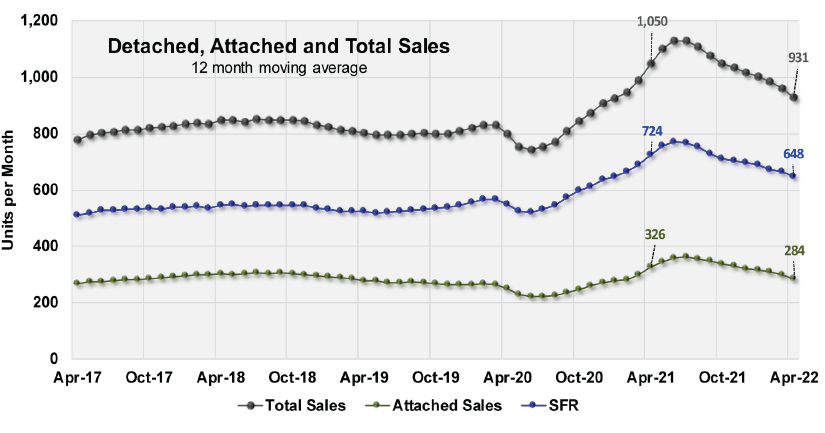 The main reason for this is the sharp rise in interest rates. They have hit an average of 5.35% nationally, a 2% increase from just a year ago. Interest rates may not affect you directly as a home seller, but as Lawrence Yun, chief economist at the National Association of Realtors, states, "Many buyers will be forced out of the market because of the hit to affordability from rising interest rates." That could put a damper on the number of multiple-offer situations and lead to increased days on market.
However, it's not all doom and gloom. Locally, while increased interest rates are causing a dip in buyer demand (23% less sales than this time last year), the number of active homes are starting to rise. Despite the recent increase in the number of active homes, the total inventory is still well below pre-pandemic levels by over 1,500 active listings. By the end of April, there were just 859 active units and now it looks like we will have over 1,100 to start June (still historically very low). This much needed inventory will allow home buyers entering the market more selection and may even curb rising prices.
As a result, median home prices in the Coachella Valley are still at an all time high ($670k). Zillow predicts that annual home price appreciation nationally will "continue to accelerate through the spring, peaking at 22% in May before gradually slowing to 17.8% by February 2023." The increased mortgage rates will likely slow home price growth, but every major real estate firm still expects home prices to grow somewhat this year.
You may be wondering how inflation and our general economic situation play into this. While inflation is hitting the average consumer hard and some worry we may see a recession in 2023, the real estate market is expected to remain strong. Interest rates are slowing down buyer activity, but it likely won't be enough to cause a crash.
In the lead-up to the crash of 2008, the real estate market had already experienced a significant downturn. That's something we are not seeing today. Many are actually looking to the real estate market to lessen the impact of a possible recession in 2023.
Overall, it is still a fantastic market in which to sell your home. Prices have never been better, and while higher interest rates may make it harder to buy, there are plenty of strategies that can help you find a new home and make the whole process smoother.
The market projections are positive, but the future is still uncertain. This may be your last best chance to sell your home for top dollar before rates climb even more and price more buyers out of the market.
If you're curious about what your home could sell for in today's market, check out the home value calculator link and QR Code below, which takes into account recent Coachella Valley sales https://jelmberg.team/home-value