Coachella Valley home prices have decreased for the second month in a row, further solidifying the Coachella Valley housing market's shift to become more balanced. Median home prices have decreased 5.5% since August to 670k, but are still up over 15% year over year.
The number of home sales continues its normal seasonal dip, though we are still at levels well below last year's sales numbers (32% fewer sales year over year), and approx. 25% fewer sales than pre-pandemic levels. All Coachella Valley cities and price ranges are experiencing this decline in sales at varying levels, with homes priced above $700,000 affected the least.
Coachella Valley inventory increased by 214 units, bringing the number of active homes to 1,807. This is over 920 more active homes than we saw this time last year, but still approx. 33% short of normal levels. Inventory numbers are still tracking to be in the 2,500 range at its height in the upcoming season (approx. 1,000 short of normal pre-pandemic levels).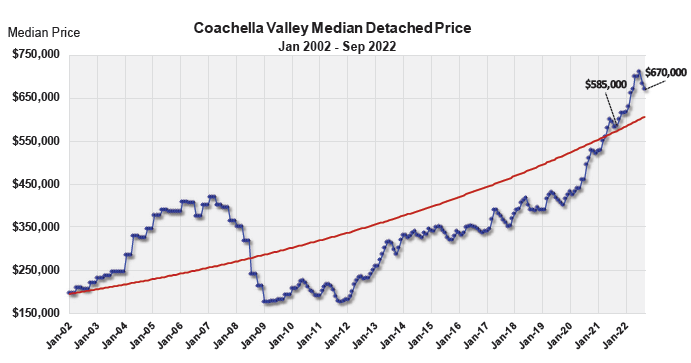 Months of sales increased by 0.3 months to 2.2, and are significantly up year over year in every city and every price range, continuing its steady rise and moving much closer to be a more balanced market.
The number of homes sold Valley-wide above asking are down to 27% from well over 50% just a few months ago. It's expected homes sold above asking will be at normal levels (10%) by the end of the year. Average days on market are also expected to get back to normal levels (50-60 days) in the very near future. Median days on the market are currently 32 days.
FED Rate Hikes
It seems the FED's rate hikes have produced their desired effect to cool the market. Interest rates have settled around 7% from the recent rate increase earlier last month, though the sentiment industry wide is we could see rates drop significantly in the first half of 2023. Fannie Mae published a recent housing report indicating rates could fall below 5% in 2023.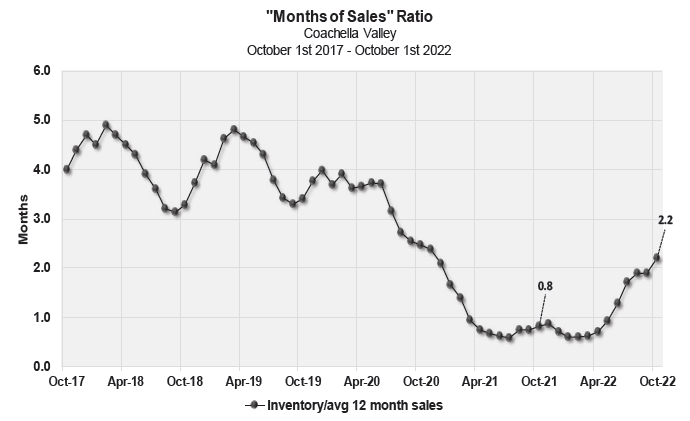 All of this data points to a market here in the Valley that is shifting to become more balanced, though still in favor of sellers at this point. If inventory remains at, or close to current numbers (about 30% less than pre-pandemic levels), we can expect to see home prices stabilize, or continue to gradually increase through the season. We'll be watching this closely along with the FED's decision on an interest rate hike this fall and its actual effect on buyers in the Coachella Valley.
The Jelmberg Team had over $14 million in sales over the last two months and have been able to structure deals that are still favorable to our sellers, while helping to offset the rate increases for our buyers making it a win/win for both parties.
Contact the Jelmberg Team agent you have been working with for more information about how we are still able to meet our clients real estate goals in the current market.